It might last a day, it might be the methodology from now on, but I intend to try and group items together so I'm not just using "
Blog This
" on any page that takes my fancy. If nothing else, the extra time it takes will help me to forget the morning I've had.
So, to start let's look at a bit of interface design from
We Make Money Not Art
.
Audio Cubes
from
Bert Schiettecatte
are small plastic cubes with inbuilt audio processors. They change their audio and visual output by interacting with other Audio Cubes in their immediate vicinity which allows the user to interact with the music by moving them around.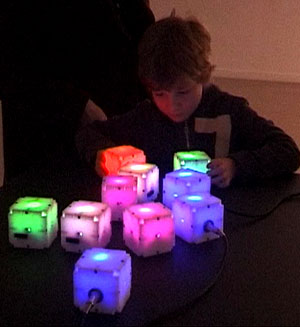 AudioCubes
Next up in the interaction stakes is the
Vibrobod
. The device rests in the lap of each user during telephonic conversations, whether chat, voice or IM. It amplifies temperature, vibration, etc that is usually lost in telephonic communication.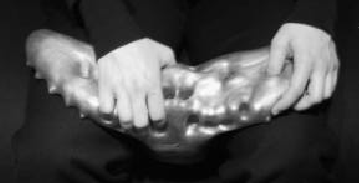 Vibrobod
Next up is via
SmartMobs
.
This is so cool I can't believe nobody thought of it earlier.
Keitai Vyuun! which roughly translates from the Japanese as "Mobile Phone Zoom!" is a set of wind up wheels that attaches to a mobile phone. You can either get the set with just wheels, or with a pull-back spring mechanism for real racing action!
("And if the challenger should beat the Iron Mobile, they will win the people's praise and ovation forever! Every day reputations are on the line in Mobile Stadium...")
Of course, being part of the digital revolution, moving into New media the way we are, I believe that the ABC should be at the forefront of the Keitai Vyuun! revolution, organising Flash Mob race meets in centres around Australia.
Kyeitai Vyuun!
Time for a break.
(Cue the music)
Doo do doo do dooo da doo do do, etc...